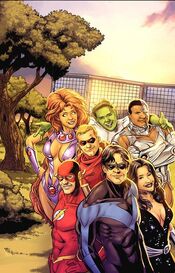 The Titans is made up of ex-members of the Teen Titans who have passed the maximum age limit to be able to join the Teen Titans. Dick Grayson was a Teen Titan member as Robin, Wally West as Kid Flash, Roy Harper as Speedy. The other members have remained with the same identity from childhood to adulthood.
In Other Media
Edit
Ad blocker interference detected!
Wikia is a free-to-use site that makes money from advertising. We have a modified experience for viewers using ad blockers

Wikia is not accessible if you've made further modifications. Remove the custom ad blocker rule(s) and the page will load as expected.